In 2019 Maastricht University Medical Center (MUMC+) and Moveshelf started a collaboration. MUMC+ is now one of our first customers using Moveshelf in their daily clinical work. Recently, their partner Maastricht University extended these Moveshelf services to also support their yearly gait course for students from Human Movement Sciences in Maastricht. Patients with adult spinal deformity indicated for long segment spondyloses, children with slipped capital femoral epiphysis, obese patients with knee osteoarthritis and bilateral vestibulopathy patients were measured in three different labs: Motek's CAREN system, and two Vicon setups. The data was then uploaded to Moveshelf, where MUMC+'s gait course has their own separate, private space which can only be accessed by these students and staff.
Students are using the interactive interface of Moveshelf to get familiar with kinematics, balance and gait parameters when performing a clinical gait analysis. They work independently on Moveshelf and do their own analysis whenever they want for the duration of this course. They will investigate standalone trials of the patients, look at comparisons that visualize progression over time and comparisons with matched healthy controls, where all data is overlaid in graphs and histograms. This way, the students can spot differences immediately and easily switch between data of several measurement sessions. All without needing to install and learn software from all the different equipment that is used in the movement labs.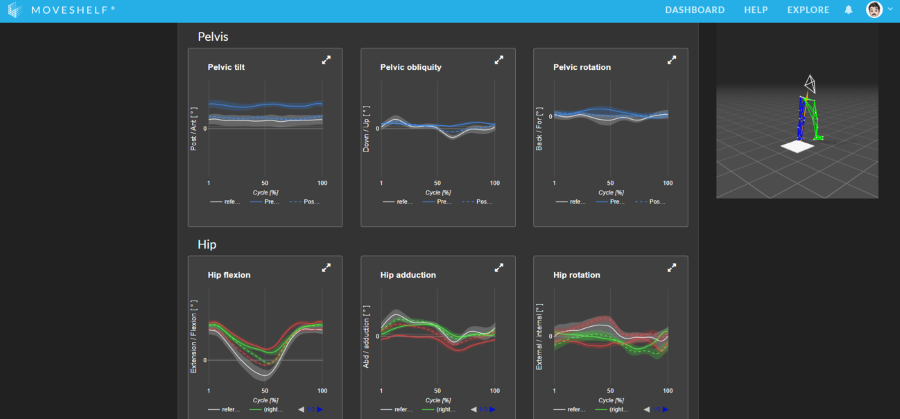 We are very excited to continue and intensify the collaboration with MUMC+ and to make their clinical movement analysis workflow easier and faster. Not only for the lab operators, but also for clinicians who are integrating this data in the formulation of their treatment plan.
Want to learn how we can help you?
And if you would like to keep up to date on future posts, be sure to follow us on LinkedIn or Twitter.